Buy Now!
Click here to purchase POLYPROC™ products.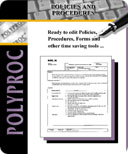 Get Your Complete Sarbanes-Oxley Compliance Toolkit Here!
Sarbanes-Oxley Compliance and Disaster Recovery TOOL KIT - For our publicly traded clients and everyone else who understands the need to move toward improved proficiency in their application of Internal Controls and Documentation of Business Processes - invest in this unique and user friendly resource for Sarbanes-Oxley compliance. Get up to speed fast with a synopsis of the law, guidance and checklists to help with every aspect of your project from identifying and tracking your key accounts and processes to developing the documentation of your key controls within those processes, to testing for compliance, and developing the sign-offs for management's report to the Audit Committee, the CPA firm and the Public on Internal Control. BONUS - get a jump start on developing your Disaster Recovery Procedures with our codification of excellent guidelines, sample policies and up-to-date web references.
Sarbanes-Oxley Index of Compliance Tools Found on AO7865
Sarbanes-Oxley Act of 2002 and resource reference list
Final Rules Issued by the SEC:
Final Rules SEC Web Index
Strengthening Auditor Independence Requirements
Standards on Audit Committees
Certification of Disclosure in Companies' Quarterly and Annual Reports
Improper Influence on Conduct of Audits
Implementation of Standards of Professional Conduct for Attorneys
Off-Balance Sheet Arrangements Disclosure Requirements
Conditions for Use of Non-GAAP Financial Measures
Filing Guidance Related To: Conditions for Use of Non-GAAP Financial Measures; and Insider Trades During Pension Fund Blackout Periods
Mandated Electronic Filing and Website Posting for Forms 3, 4 and 5
Ownership Reports and Trading by Officers, Directors and Principal Security Holders
SOX Sec. 404a Management's Reports on Internal Control Over Financial Reporting and Certification of Disclosure in Exchange Act Periodic Reports
Disclosure Required by Sections 406 & 407 of SOX
Additional Form 8-K Disclosure Requirements and Acceleration of Filing Date
Regulation Analyst Certification
Retention of Records Relevant to Audits and Reviews
Rule 404a Compliance Deadline Extension to July 15, 2007
Voluntary Reporting Using XBRL
FAQs from the SEC
Management's Report on Internal Control Over Financial Reporting and Certification of Disclosure in Exchange Act Periodic Reports
FAQs Regarding the Use of Non-GAAP Financial Measures
FAQs Division of Corporation Finance Current Report on Form 8-K
Application of the Commission's Rules on Auditor Independence
FAQs Div of Corp Finance #s 1-28 11-8-02
FAQs Div of Corp Finance Staff Views on Certain Issues Raised in the Implementation of Section 404 #s A-J 5-16-05
Final Standards/Rules Issued by the PCAOB:
PCAOB LINKS
Auditing Standard No 1
Auditing Standard No 2 SOX Sec. 404b Compliance - Audits of Internal Controls
Auditing Standard No 3 SOX Sec. 404b Compliance - Audit Documentation
Auditing Standard No 4 Reporting on Whether a Previously Reported Material Weakness Continues to Exists
Auditing Standard No 5 An Audit of Internal Control Over Financial Reporting That Is Integrated with An Audit of Financial Statements
Auditing Standard No 6 Evaluating Consistency of Financial Statements
FAQs from the PCAOB
Attest Engagements Regarding XBRL Financial Information Furnished Under the XBRL Voluntary Financial Reporting Program on the Edgar System, May 25, 2005 (or on your CD XBRL)
Auditing Internal Control Over Financial Reporting, June 23, 2004, Revised July 27, 2004 (Questions 1 - 26) (or on your CD 1-26)
Auditing Internal Control Over Financial Reporting, October 6, 2004 (Questions 27 - 29) (or on your CD 27-29)
Auditing Internal Control Over Financial Reporting, November 22, 2004 (Questions 30 - 36) (or on your CD 30-36)
Auditing Internal Control Over Financial Reporting, January 21, 2005 (Question 37) (or on your CD 37)
Auditing Internal Control Over Financial Reporting, May 16, 2005 (Questions 38 - 55) (or on your CD 38-55)
Audits of Financial Statements of Non-Issuers Performed Pursuant to the Standards of the PCAOB, June 30, 2004 (or on your CD Non-Issuers)
Trickle Down - NonProfits:
Panel on the Non-Profit Sector
Final Report of the Panel
Impact of SOX on Private & Nonprofit Companies
Guidance for Smaller Public Companies Reporting on Internal Control over Financial Reporting (Draft)
Helpful Checklists:
Up-the-ladder Attorney Reporting Checklist
Audit Committees

Audit Committee Agendas
Audit Committee Charter

Design Decisions Checklist of Audit Committee Complaint System
Non-audit Service Approval Checklist
AICPA/SOX Toolkits -

For Profit Issuers - reprinted in its entirety herein or available on-line
Governments - available on-line
Non Profits - available on-line

Auditor Independence Requirements
Auditors' Cooling Off Period Checklist
Checklist for Internal Audit Function
Checklist for Sr. Management Assessment
Financial Expert -

Financial Literacy Requirements
Required Knowledge Attributes and Experience

Internal Control Deficiency Flowchart
Framework for Evaluating Control Exceptions & Definitions
Sec. 302 Certification Checklist
Sec. 302 Certification Due Diligence Checklist
Sec. 906 Certification Due Diligence Checklist
Project Planning Guide including spreadsheet of Significant Accounts and Relevant Assertions
Supplemental Tools
Sarbanes-Oxley web site
AICPA web site Index Page
COSO Internal Control Framework Powerpoint Presentation
Link for purchasing the IC Integrated Framework here for $28 online
Webinar on SOX available online at www.protiviti.com
SOX Updates via "The Bulletin" at protiviti.com
Guide to IT Risks and Controls available at protiviti.com
Guide to SOX IC Reporting Requirements-FAQs RE: Sec 404 available at protiviti.com
Guide to Internal Audit FAQs RE: NYSE Requirements and Developing an Effective Internal Audit Function available at protiviti.com
ALSTON+BIRD on Final Rules relating to Audit Committees contained in the Supplemental Tools Folder or online
IT Governance Institute (ITGI)
Information Systems Audit and Control Association (ISACA)
CobiT Internal Control Framework - Primer
CobiT Executive Summary
CobiT Management Guidelines
CobiT Control Objectives
CobiT Implementation Tool Set
The IIA Home Page on Sarbanes-Oxley
The IIA view of Mapping COSO and CobiT
The Internal Auditors Role in Complying with 302 and 404
Sarbanes-Oxley - Project Management
Sarbanes-Oxley - The IT Dimension
The IIA Response Letter to the First Year of Sarbox
Managing Your Sarbanes-Oxley Project and Ensuring Positive ROI:
The IIA Toolkit from Richard Lanza, CPA available online
NASDAQ & NYSE Rulemaking: Relating to Corporate Governance
NASDAQ Corporate Governance Rules
NYSE Corporate Governance Rules
ALSTON BIRD on Final Rules relating to Codes of Conduct - Comparison of NASDAQ & NYSE Rules (not able to hyperlink) contained in the SEC Updates/Code of Conduct Folder or online access
Whistle Blower Protections - Final Rules - Federal Register Aug 24, 2004
US Dept of Labor - Whistleblower Program on-line access
Whistle Blower Protections - Corporate Fraud - Fact Sheet
Sarbanes Oxley Procedures | Sarbanes Oxley Audits | 404 Compliance | Sarbanes Oxley Section 404 Compliance | Sarbanes Oxley Payroll Policies | Sarbanes Oxley Travel Policies