Buy Now!
Click here to purchase POLYPROC™ products.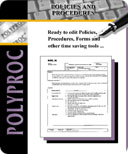 POLYPROC™ Product Features
Ready to edit policies, procedures and other time saving tools
POLYPROC™ is the fast, convenient, and affordable way to develop Sarbanes-Oxley compliant policies and procedures for your business processes including accounting, purchascing, payroll, travel and other areas of the company. POLYPROC™ products include the ability to quickly edit and print ready to use policies and procedures so you don't have to start from scratch. Additionally, you will find many typical forms needed in every business from purchase requisition to travel and entertainment expense report:
Whether you need A/P, A/R, Payroll or General Accounting, we have developed a package for you. From Fixed Assets to Travel to Purchasing to Credit & Collections, you can improve your policies and procedures quickly and inexpensively with POLYPROC™.
Your company can save 20% and get 50% more content by ordering the complete Accounting Policies and Procedures rather than our other three packages. See package details below.
What You Get...
AO7872

Accounts Receivable Policies & Procedures
AO7850

Accounts Payable Policies & Procedures
AO7842

Payroll Policies & Procedures
AO7865

Accounting Policies & Procedures
Number of Topics
over 30
over 25
over 20
over 125
Sarbanes-Oxley System
Accounts Payable
Billing and Accounts Receivable
Cash Disbursements
Cash Receipts
Credit and Collection
Disaster Recovery
Fixed Assets
FLSA Exemption Charts
Garnishment Worksheet
General Ledger
Introduction Memos
Journal Entries
Payroll Policies
Project Time Budget
Proof of Cash
Purchasing
Summary "How to Guide"
Supplemental Pay Gross-Up Worksheet
Travel Policies