Buy Now!
Click here to purchase POLYPROC™ products.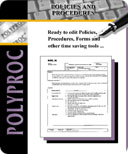 Benefits of purchasing ready to edit procedures
Don't reinvent the wheel...
Purchase POLYPROC™ ready-to-use policies, procedures, forms and other time saving tools and:
Save thousands of dollars in consulting fees.
Fulfill your independent financial auditors' key management and financial control recommendation.
Eliminate hours of laborious writing and re-writing.
Gain insight into the key elements of internal control and segregation of duties built right into these procedures and process flow diagrams.
Provide your nonfinancial staff with a complete glossary of accounting terminology.
Provide required documentation to your regulatory agencies while demonstrating your credibility.
Streamline your travel and entertainment reimbursement procedures with these concise policy guidelines and an automated expense report form ... it even converts foreign currencies.
Communicate FLSA exempt status requirements to your department heads and executive staff quickly and clearly.
Take the guesswork out of garnishment calculations with our automated garnishment limitations and priorities model.
All policies and procedures are stored in Word.doc (MS Office 95) format for easy retrieval and use.
Draw from hundreds of ideas for improving your day-to-day routines, transactions and communiqués.