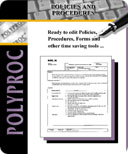 POLYPROC™ specializes in providing accounting policies and procedures for small to multi-national companies in many industries. If you need help complying with the internal control issues under the Sarbanes-Oxley Act, you are in the right place.
POLYPROC™ is the fast, convenient, and affordable way to develop policies and procedures for your business processes including accounting, purchasing, payroll, travel and other areas of the company. POLYPROC™ products include the ability to quickly edit and print ready to use policies and procedures so you don't have to start from scratch. Additionally, you will find many typical forms needed in every business from purchase requisition to travel and entertainment expense report.
Whether you need A/P, A/R, Payroll or General Accounting, we have developed a package for you. From Fixed Assets to Travel to Purchasing to Credit & Collections, you can improve your policies and procedures quickly and inexpensively with POLYPROC™.
Sarbanes-Oxley Compliance and Disaster Recovery TOOL KIT - For our publicly traded clients and everyone else who understands the need to move toward improved proficiency in their application of Internal Controls and Documentation of Business Processes - invest in this unique and user friendly resource for Sarbanes-Oxley compliance. Get up to speed fast with a synopsis of the law, guidance and checklists to help with every aspect of your project from identifying and tracking your key accounts and processes to developing the documentation of your key controls within those processes, to testing for compliance, and developing the sign-offs for management's report to the Audit Committee, the CPA firm and the Public on Internal Control. BONUS - get a jump start on developing your Disaster Recovery Procedures with our codification of excellent guidelines, sample policies and up-to-date web references.
Accounting Policy | Accounting Policies & Procedures | Corporate Policies & Procedures | Financial Accounting Policies | Internal Control Policies | Corporate Internal Control Procedures